General Surgery at Stephens County Hospital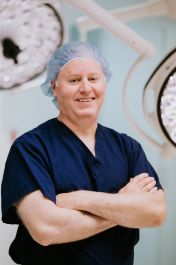 Stephens County Hospital proudly offers General Surgery services to the Northeast Georgia Region. Serving the Toccoa, GA community for over 80 years, our team of General Surgery experts at Stephens County Hospital Physicians Group has one goal in mind, providing quality patient care.
Stephens County Surgeon, Dr. Dearl Birdsong
Board-certified surgeon, Dr. Dearl BirdSong, and his team of experts combine surgical expertise with compassionate care to deliver the best experience to every patient. You can rest assured that you and your loved ones are receiving quality care from Stephens County Hospital.

Providing superior care through both traditional and laparoscopic techniques, our General Surgery practice is experienced in non-operative, elective and emergency surgical treatment.
Specializing in preoperative, operative, and postoperative management, we treat patients with a broad spectrum of conditions and medical issues.
Surgical Procedures at Stephens County Hospital
The expert team in Toccoa, GA serves the community through a number of emergency, non-operative and elective surgery procedures. To learn more about the specific types of conditions we treat and procedures we perform, see our detailed list below:
Appendectomy (Laparoscopic)
Hemorrhoid Banding
Breast Lumpectomy/Mastectomy
Hemorrhoid Surgery
Colonoscopy
Inguinal Hernia Repair
Colon Resection-Laparoscopic
Laparoscopic Cholecystectomy (lap chole)
Colorectal (single site, laparoscopic, traditional laparoscopic)
Complex Wound Care
Partial Gastrectomy
EGD
PEG Tubes

Emergency Surgery

Port-a-Cath Placement
Excision of Skin Lesions
Thyroid
Excision of Subcutaneous Mass
Trauma Surgery
Exploratory Laparoscopy
Umbilical Hernia Repair
Exploratory Laparotomy
Ventral Hernia Repair
Gastrointestinal Hernia
Contact Us
To learn more or to speak with our team about scheduling an appointment, contact us today.


Location Information
Address: 58 Big A Road, Toccoa, GA 30577
Phone Number: (706) 282-5830
New Patients
Click below to access our new patient paperwork needed for your first appointment.